Biography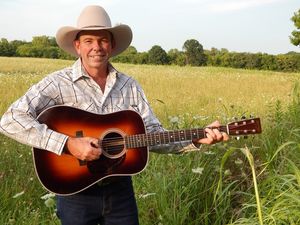 For an authentic traditional Australian country sound, look no further than Bush Ballad Singer / Songwriter, Dean Perrett.
  
There is an old saying "write and sing about what you know", and having been raised and still working on the family cattle property "Bowenfels", a soul of pure country is a natural thing.  
Dean's credibility as a writer of Australian Bush Songs goes unquestioned.  When not making music, he is in the saddle on his family's Queensland cattle property.  Just like Dean, the songs he writes and sings, are very authentic and genuine.  This is why the great Australian music genre, the Bush Ballad, is so important to him.  
Over the last 32 years, Dean has gained his place as one of Australia's favourite Bush Balladeers and leading traditional Country Artists.
 
Dean and his sister Kerri recorded their first album "Australia She's Mine" in 1989.  That first album gave Dean a love for recording and production.  Since then Dean has released a stable of great traditional Country and Bush Ballad albums. 
With the release of Dean's 2021 album "Kind Seasons", his tally of albums now stands at seventeen.

Dean's recording resume is compiled with some of the greats like Stuie French, Michael Vidale and Larry Maars (USA), and also having many great names playing on his albums from both Australia and Nashville, Tennessee.

Gospel music is also very true to Dean's heart and with the release of his Bluegrass Gospel Album, "The Shelter of the Cross" in October 2013, Dean got to showcase another of his great musical loves, Gospel and Bluegrass.
 
Artists such as Lee Kernaghan, Anne Kirkpatrick and Troy Cassar-Daley have such a respect for Dean's music that each of these artists has recorded duets with Dean on his albums. 
January 2012 saw Dean added to a very exclusive list of Golden Guitar winners, when he was awarded Bush Ballad of the Year for his emotive duet with Lee Kernaghan, "Channel Country Ground", followed by a further 2 in January 2015. One for Bush Ballad of the Year for "Bloodwood and Clover," and the second for Vocal Collaboration of the Year for the duet, "My Country My Land" recorded and co-written with Troy Cassar-Daley. 2018 saw Dean add another Golden Guitar to his collection with "Henbury Blues" written by Neville Anderson.
His latest Golden Guitar win being 2021 for Bush Ballad of the year with "Six Decks to Darwin" written by Dean, Kelly Dixon & Cattle transport driver, Ryan Garland.
In 2015 Dean was given the honour of being inducted into the Australian Country Music Hands of Fame.
 
Dean has performed at major festivals around Australia as well as touring with his own shows to many locations nationwide.
 
His music is traditional yet fresh and modern.  With a sound that is uniquely his own brand, Dean is set to make great Australian Country Music well into the future.
 
 
Awards
2021 Bush Ballad of the Year - CMAA Country Music Awards of Australia
2018 Bush Ballad of the Year - CMAA Country Music Awards of Australia
2018 Australian Independent Bush Ballad of the Year - Australian Independent Country Music Awards
2018 Songwriters Award - Gidgee Coal Bush Ballad Awards
2018 Album Award - Gidgee Coal Bush Ballad Awards
2015 Hands of Fame Inductee - Australian Country Music Hall of Fame
2015 Vocal Collaboration of the Year (for duet with Troy Cassar-Daley) - CMAA Country Music Awards of Australia
2015 Bush Ballad of the Year - CMAA Country Music Awards of Australia
2015 Traditional Bush Ballad of the Year - Tamworth Songwriters' Association Songwriters' Salute Awards
2015 Gospel Song of the Year - Tamworth Songwriters' Association Songwriters' Salute Awards
2015 Alternative Country/Blues/Bluegrass Song of the Year - Tamworth Songwriters' Association Songwriters' Salute Awards

2014 Australian Independent Heritage Track of the Year (Traditional) - Australian Independent Country Music Awards
2014 Country Ballad of the Year - Tamworth Songwriters' Association Songwriters' Salute Awards
2014 Country Song of the Year - Tamworth Songwriters' Association Songwriters' Salute Awards

2013 Songwriters' Award - Gidgee Coal Bush Ballad Awards
2013 Australian Independent Heritage Track of the Year (Traditional) - Australian Independent Country Music Awards 
2013 Gospel Song of the Year - Tamworth Songwriters' Association Songwriters' Salute Awards

2012 Bush Ballad of the Year (for duet with Lee Kernaghan) - CMAA Country Music Awards of Australia
2012 Gospel Song of the Year - Tamworth Songwriters' Association Songwriters' Salute Awards
2012 Group or Duo of the Year - Stan Coster Memorial Bush Ballad Awards
2012 Trailblazers Heritage Award - Victorian Country Music Awards (National Section)

2011 Australian Independent Heritage Track of the Year (Traditional) - Australian Independent Country Music Awards

2010 Album of the Year - Stan Coster Memorial Bush Ballad Awards
2010 Heritage / Bush Ballad Award - Queensland Country Music Awards

2009 Album of the Year - The Gidgee Coal Bush Ballad Awards
2009 Group/Duo Collaboration of the Year - The Gidgee Coal Bush Ballad Awards
2009 Australian Independent Heritage Track of the Year (Traditional) - Australian Independent Country Music Awards

2007 Album of the Year - Stan Coster Memorial Bush Ballad Awards
2007 Best Bush Ballad - Australian CM People's Choice Awards

2006 Bush Balladeer of the Year - ACRA's (Australian Country Recording Awards)
2006 Bush Balladeer of the Year - QLD Gold Medallion Awards
2006 Group/Duo Collaboration of the Year - The Gidgee Coal Bush Ballad Awards
2006 Australian Independent Heritage Track of the Year (Traditional) - Australian Independent Country Music Awards

2005 Bush Ballad Album of the Year - Australian Country Recording Awards
2005 Country Song of the Year - Tamworth Songwriters' Association Songwriters' Salute Awards
2005 Gospel Song of the Year - Tamworth Songwriters' Association Songwriters' Salute Awards

2004 Bluegrass Gospel Song of the Year - National Gospel Songwriting Awards
2004 Bush Ballad Album of the Year - Stan Coster Memorial Bush Ballad Awards
2004 Gospel Song of the Year - Tamworth Songwriters' Association Songwriters' Salute Awards

2003 Bush Ballad Album of the Year - Australian Country Recording Awards

2002 Bush Ballad Album of the Year - Stan Coster Memorial Bush Ballad Awards
2002 Gospel Song of the Year - Tamworth Songwriters' Association Songwriters' Salute Awards
2002 Group, Duo or Instrumental of the Year - Stan Coster Memorial Bush Ballad Awards
Discography
2021- Kind Seasons
2018 - Earn Your Spurs 
2017 -  Aussie Favourites Bluegrassed  
2016 – Dusty Sky
2014 – I'm The Land
2013 – The Shelter Of The Cross
2013 – My Bush Heritage
2011 – Cattle Town
2008 – A Thousand Campfires
2007 – Return of the Stockman
2006 – New Traditions
2005 – My Saddle Bag Dreams
2004 – Keep on the Sunnyside - Dean & Kerri Perrett
2003 – All Set and Saddled
2001 – The Real Thing
1999 – Kings in Grass Castles
1989 – Australia She's Mine - Dean & Kerri Perrett